On Human Rights Day, we want to acknowledge some of the documentation and investigation projects that have inspired our HURIDOCS team throughout the year. These projects are great examples of the creativity, adaptability, and sheer determination that describe so many human rights leaders in this field. They have inspired us to move forward in discovering new ways in which tech can better support human rights.
We are so honored to be able to contribute to this technology + human rights field, and we're excited to see what new ideas our partners bring to us in 2019!
Profiling the Police: Using eyewitness video as a source of data about police abuse
WITNESS and El Grito de Sunset Park published the results of their work, exploring new forms of storytelling through the analysis and curation of human rights videos. Their project, titled Profiling the Police, set out to find new ways to use eyewitness video and open source data to expose abuses by some New York Police and begin to illustrate how police abuse is part of a larger systemic problem. In addition to this innovative video story, they shared a toolkit that documents the methodology and tools used throughout this project. (We especially love the metadata section of this toolkit, which inspired many of our new Uwazi features that support video!)
Using new technology to document families' journeys as they look for their loved ones
A donde van los desaparecidos (Where do missing people go?) is a journalistic work that uses public information requests to state governments to build a map of clandestine graves in Mexico. Also, this project narrates what the journalists have encountered in their accompaniment of families collectives: despite the lack of official information about the disappearances of their loved ones, these families are applying intelligence gathered by the drones that access forbidden territories and geo-referencing clandestine graves they have found throughout the years. Read more and explore the map here.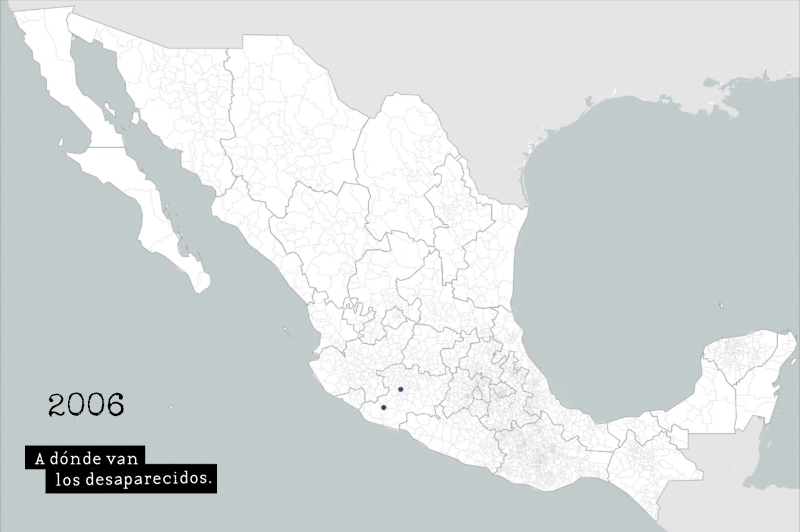 Using open source investigative techniques to track the illegal shipment of sarin precursor from Belgium to Syria
On 18 April 2018 Syrian Archive and Knack revealed information that Belgium violated EU sanctions against Syria. The Belgian customs found that without having requested the appropriate export licenses three Flemish companies have exported 96 tonnes of isopropanol in a concentration of 95% or higher to Syria since sanctions came into force in September 2013.
This is a significant finding because isopropanol is a sarin precursor – the nerve gas used by the Syrian government in the Khan Shaykhun attack that killed 74-100 people in April 2017. This year-long investigation by Syrian Archive and Knack revealed many key pieces of information that will be used in upcoming hearings. Read more about the methodology used in this investigation.
Using open source investigative techniques to uncover the story behind an execution video of women and children
Using open-source forensic investigation techniques, BBC Africa reporters placed the execution in the northern Cameroonian village of Zelevet, and identified the three men shown firing on the women and children. As a result, in August the Cameroon government announced it had arrested seven members of the military for the atrocities. Three of those names match up with the BBC's findings. Read more about the investigative techniques used in this case.
Creating the 3-D, virtual reconstruction of the 2014 killing of Kyiv Protesters
In 2018, team of civilian investigators, with help from SITU Research and the Center for Human Rights Science at Carnegie Mellon University, submitted the results of their investigation on the killings of protesters during the 2014 Ukraine Maidan Protests to the Ukrainian criminal court. Using cellphone videos, autopsy reports, surveillance footage, forensic architecture and artificial intelligence, this team was able to reconstruct a virtual crime scene. This reconstruction has been submitted to the court to be used as evidence in cases against five members of the elite police force.
2018 tools that we're watching:
VFRAME: Using computer vision to automatically detect cluster munitions
VFRAME (Visual Forensics and Metadata Extraction) is able to detect the AO-2.5RT/RTM cluster munition that appears frequently in videos from the Syrian conflict. Even though this type of munition has been banned by the Convention on Cluster Munitions (CCM), researchers at Syrian Archive have identified evidence of this munition in dozens of videos. Using computer vision to automatically detect cluster munitions will significantly accelerate researcher's work to locate evidence of cluster munitions in this large dataset, in order to ultimately hold the perpetrators accountability for these crimes. Read more about VFRAME.
A new fleet of satellites is increasing the ability for organisations to detect human rights abuses
Satellite imagery has been used for a few decades to capture evidence of widespread human rights abuse, but a new generation of hundreds of shoebox-size satellites are making this technology more accessible to organisations. This has greatly aided human rights researchers who are on the ground because they are often overwhelmed with rumours, stories and calls. Having access to satellite imagery analysis helps to have a better understanding of what has happened, and where, so that researchers and investigators know where to start. Read more about how Human Rights Watch has used satellite imagery in their research.