The power of information lies in its accessibility to the people who can act on it. When it comes to human rights, those people are the advocates, activists, researchers and policy makers working to make sure that everyone's basic dignity and freedoms are protected.
To do their job, they need to be able to easily find relevant human rights laws, rulings and resolutions issued by various local, regional and international bodies. This sort of information can offer critical insight into a topic or lend weight to a claim for justice.
The problem? Organizing a collection of documents such as these is a huge undertaking for anyone, but even more so for human rights defenders with limited time and resources. What if we could automate parts of the process to better support their work?
That's what we're trying to achieve through machine learning.
Many of our partners curate human rights information into one-stop shops based on their issue or legal system of focus. For example, the Center for Justice and International Law (CEJIL) has SUMMA, a database that provides a complete overview of cases heard by the Inter-American Commission and Court of Human Rights.
And the Institute For Human Rights And Development In Africa (IHRDA) hosts the African Human Rights Case Law Analyser, which offers a comprehensive look at African human rights decisions, protocols and more.
But curation is a lot of manual work — some of our partners can spend up to 16 hours processing just one document.
As a curator of a database, you have to not only collect thousands of documents but also upload and categorize them, filling in descriptors like title, date and topic, and creating relationships between one document and another.
More detail is better for the end user, who relies on the database to find the information they need to design effective advocacy, or defend someone's humanity in court, or recommend a fairer policy reform. More detail, however, means more time and effort required by the curator.
If we could teach the database to suggest a title for you based on the body of the document, that would be one less burden on your shoulders.
If the database's algorithm learned to recognize what the document is about, that could lead to better topic classification and richer analysis — as well as free up even more of your time to dedicate to other important tasks.
And if the search function could understand what the end users mean to say, not just their literal words, those advocates, activists, researchers and policy makers could find what they're looking for faster and more accurately.
Machine learning + human rights = defenders finding the information they need
If done well with input from human rights defenders, machine learning could have an enormous impact on the accessibility of human rights information. It's for this reason that we're actively exploring how we might apply machine learning to Uwazi — our open-source platform for hosting collections of documents.
Earlier this year, HURIDOCS was selected as a Google AI Impact Challenge grantee. In addition to the financial support, seven developers and product managers from Google have been helping us to advance our capabilities in machine learning. They are collaborating with us full-time, and are able to do so thanks to the Google.org Fellowship, which allows Google employees to do pro bono work with a grantee for up to six months.
Together, we're looking to improve how Uwazi is used for public collections of human rights laws, rulings and resolutions. Throughout this process, we're sticking to our commitment to open source, and detailing our progress openly on GitHub. The developments we are making will also indirectly benefit our partners who use Uwazi to document human rights violations, but those projects remain separate from this work.
As part of this initiative, we organized a gathering in Madrid in November with representatives of some of our partner organizations, including CEJIL, IHRDA, UPR Info and Plan International, as well as with the Google.org Fellows.
We came away from that meeting with a better understanding of our partners' needs and how machine learning could address them, such as what moments within the workflow of uploading and organizing documents our partners find most time-consuming.
Moreover, we were reminded of the importance of collaboration in identifying creative and relevant solutions for access to human rights information — not only among human rights defenders, but also between those inside the human rights field and those outside.
For example, some of our partners have been toiling at information curation for a long time, but hadn't had the opportunity to share their hard-won learnings directly with each other as they were able to do in Madrid.
And while we at HURIDOCS have a fair share of technical expertise after nearly four decades working in human rights information management, we certainly don't have a monopoly on knowledge. On the contrary, there's always more for us to learn, and we value new and different perspectives — including those from developers and product managers in the tech sector.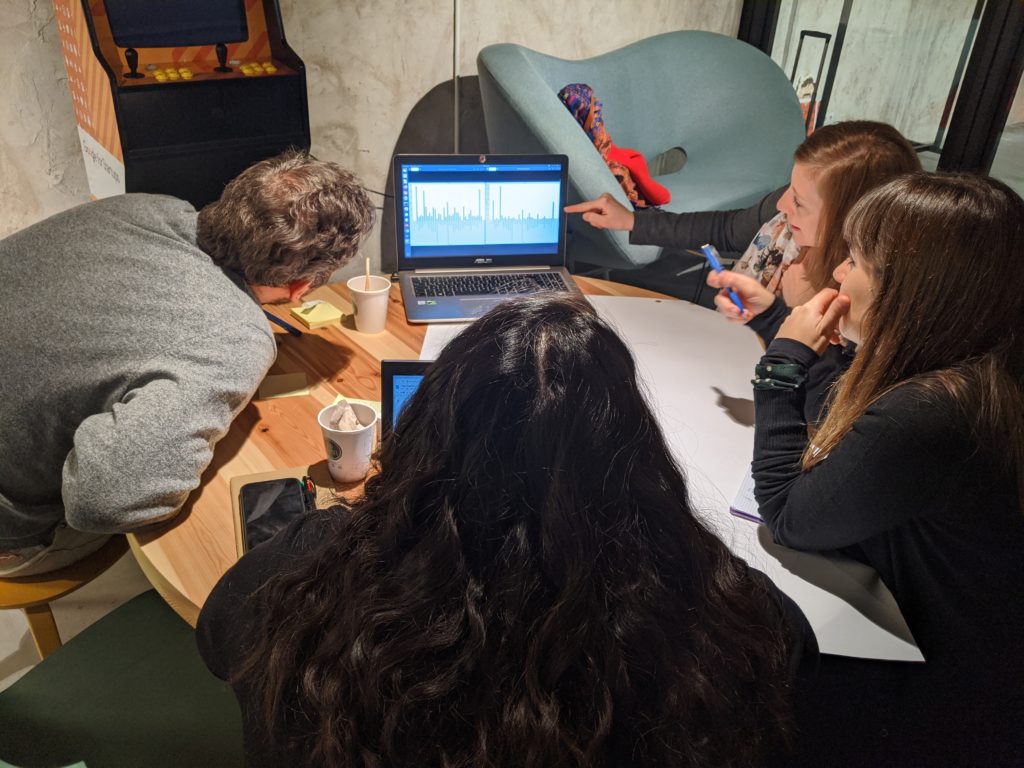 A tool alongside many others
Interestingly, we also identified a few areas that could use improvement for which the prescription wasn't machine learning, but instead was another type of software development, capacity building or communications.
For example, when internet connections are unstable or cut off completely, it would be beneficial for our partners to still be able to work within Uwazi. Some of Uwazi's interface could also be made more easy to navigate.
And there was a desire to more effectively speak to non-specialized audiences and showcase the real-world impact of the legal human rights mechanisms contained in these collections.
Such insights were a testament to the unexpected magic that can happen when partners and allies get together in person (in addition to the solid facilitation and flexible meeting agenda!).
If all you have is a hammer, goes the saying, every problem looks like a nail. To stretch the analogy, if we're excited about machine learning at a time when the hype around artificial intelligence is high, will teaching the algorithm be the only solution we ever see?
Based on our experience so far, the answer is no. With extraordinary partners doing good work, a strong commitment to collaboration, and an inexhaustible drive to keep learning and improving, machine learning is just one of many tools in our toolbox.