"They had to break us; they treated us like animals. They wanted people to be as inhuman as possible."
"After I left prison, those thoughts were haunting me. I was very angry, I couldn't communicate with people."
"Sometimes I walk, and I walk, and I forget, I forget everything, I forget prison, The Darkness, everything. But it is always there. The Darkness comes."
Torture lingers. The physical and mental suffering that it inflicts on people is not confined to the moment of the act, nor is the act of torture itself confined to the past.
The survivor testimonies above are recent, and reporting shows that torture happens in dozens and dozens of countries today — even though it is absolutely prohibited under international law. Though torture may be strongly associated with political prisoners, in reality it's more often used as an investigative tool against vulnerable communities in dysfunctional legal systems.
"Torture is one of the most serious human rights violations because it attacks the dignity of a person," says Giuliana Monina, a researcher at the Ludwig Boltzmann Institute of Human Rights in Vienna, Austria. "Unfortunately, after 30 years of the entry into force of the Convention against Torture and years of discussion on the topic, torture has not yet been eradicated."
That's why the work to prevent torture and ill treatment is so vital, and why the Ludwig Boltzmann Institute of Human Rights hosts the Atlas of Torture, a project that aims to facilitate access to information for and promote cooperation among the global anti-torture movement.
HURIDOCS collaborated with the Ludwig Boltzmann Institute's Human Dignity and Public Security team to rethink and expand the Atlas of Torture, which re-launched in 2019.
Easier access to information
The Atlas of Torture uses Uwazi, our open-source platform for organizing collections of documents, to bring together laws and reports about torture from far-flung sources into one easily navigable place.
Users of the Atlas of Torture will also find more than 100 resources with guidance, recommendations and standards on torture prevention, such as handbooks by UN treaty bodies, the African human rights system and Inter-American human rights system, or a guide to documenting and reporting medical evidence of ill-treatment by the European Committee for the Prevention of Torture.
"It's really key that this information is out there and is also well documented," says Giuliana. "This is often the challenge we experience. You normally do a lot of work individually with documents, on your own computer in your own folder on your own organization's network, but if this is all done in silos, there's massive potential lost."
"The value here is we can build on each other's work."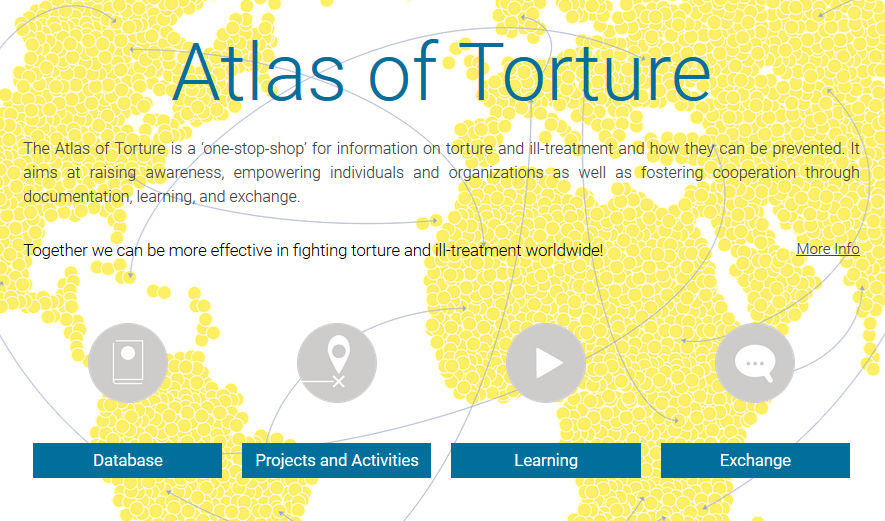 A more cooperative movement
Access to relevant information isn't the only thing that's necessary for the movement to achieve its vision of a world that respects human dignity. Just as essential is frequent sharing of strategies, insights and best practices among the various actors working to tackle root causes of torture.
For that reason, collaboration is a central component of the Atlas of Torture. In fact, it was baked into the Atlas of Torture from the start — the project's development was in part supported by a crowdfunding campaign that raised 50,000 euros in 2019.
"The concept of torture, the ways that governments and persons […] break down the will of persons, changes as the world changes. Every time, we need to update our knowledge," says Pau Pérez-Sales, the former chair of the Section of Psychological Consequences of Persecution and Torture at the World Psychiatric Association, in a testimonial for the fundraising effort.
"We need better databases. We need to expand our ideas and to include data and reflections on different fields […] This is why an initiative like the Atlas of Torture is so important."
To facilitate cooperation that crosses borders, the Atlas of Torture maps initiatives against torture and ill-treatment across the globe; collects lectures, interviews, and other learning materials for human rights defenders to build their skills; and hosts a forum for defenders to discuss developments and form new coalitions.
It also has submission forms so that anyone in the anti-torture movement can contribute documents, projects and education resources to be featured on the Atlas of Torture.
The Atlas of Torture is a living project, and as such it continues to be improved. A focus going forward will be to nurture community around the platform, says Giuliana, connecting human rights defenders worldwide around the key questions that the anti-torture movement grapples with. One example? How to make valuable torture-related research understandable for the broader public. Because creating societies free of torture will require the solidarity of many more people than just the experts.
"Technology opens many doors for more collaborative human rights work," says Manushak Mila Guilhem, the HURIDOCS project manager for the Atlas of Torture. "Our hope is that the Atlas will connect actors working on the same cause globally and spark new collaborations that otherwise would not be possible."
If you are interested in contributing to the Atlas of Torture initiative, you can email the team at contact@atlas-of-torture.org or share your material by using the submission forms.
Does your organization need to organize a collection of human rights information? We at HURIDOCS would love to help. Get in touch!