In time for the presidential elections on 31 July, the Zimbabwe Human Rights NGO Forum launches an updated website covering recent human rights developments in Zimbabwe, while for the first time offering access to a rich archive of more than 300 publications. HURIDOCS supported the development and the archiving work intensely and provided coaching on content creation and strategy.
What's the news? Recent content comes first
The most outstanding feature is that content is displayed in a much more dynamic manner, while being clearly categorised and thus intelligible. The Forum can quickly update the website during evolving events, also leveraging storify, a tool particularly useful for covering developing news stories on social media, which is now fully integrated into the website. In addition to that, all multimedia content – podcasts, videos and photos – are now readily available on the front page.
Another, yet not as visible feature, is the archive of all publications, although it is related to the dynamic display of content. Both of them rest on a thought-through taxonomy scheme – the categories and keywords that order the content and make it findable – and make the website a go-to place not only for recent news, but also for researching developments – overall, or about certain aspects – in the long haul.
Where's the analysis? A powerful archive
The archive provides quick and easy access to more than 300 publications by theme, report type or its source. All new publications will also automatically be added. What is notable, all of the existing content has been carefully edited with descriptions and appropriate keywords to make it a reliable and effective repository.
In fact, this is what took the longest time, as this work constantly led to discussions on what is actually the most effective way to organise content. These were often heated, leading regularly to changing the original idea – but that is exactly why it was worth going through them. In the end, the archive is effective for visitors and easily maintainable for the Forum.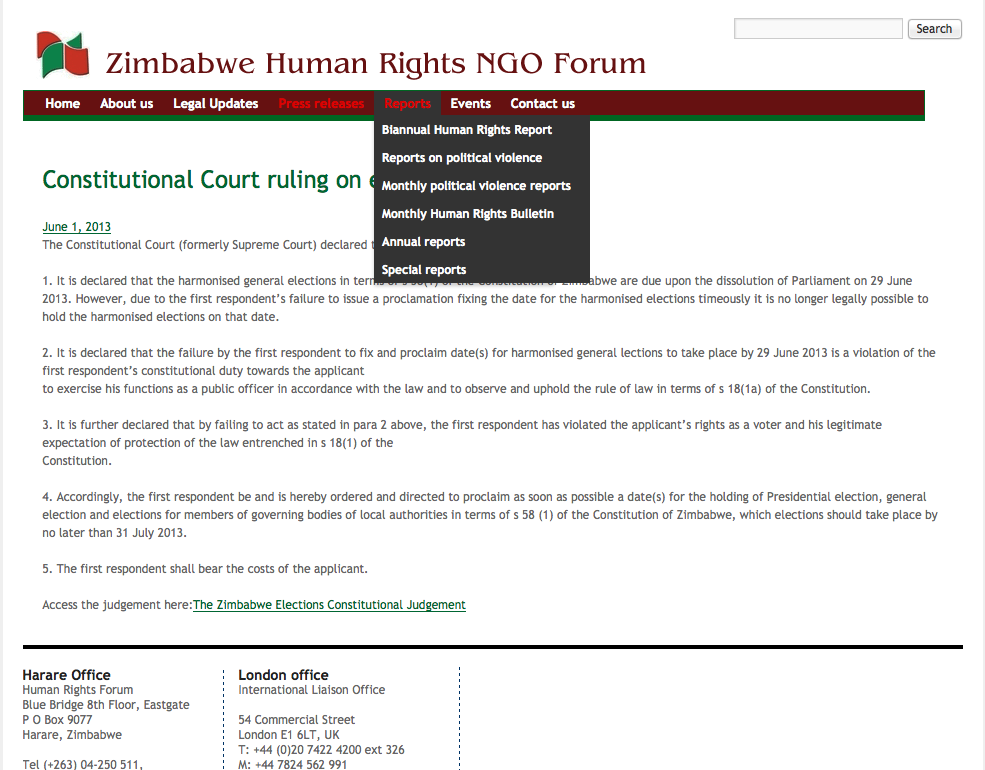 What's behind it? Same technology, but updated
Another reason why this took comparatively long is because, in fact, the underlying technology has not been changed: as before, the website is powered by WordPress, an effective and easy to handle content management system, appropriate for many NGOs. Hence, the technical side of the project was finished quite fast – these are the benefits of using open source and widespread technologies, rather than homecooked solutions, which maybe are great in the present, but may turn out to be a nightmare in the future, as they lock you into a certain path from which it becomes hard or costly to deviate.
In this case, we were thus able to leverage knowledge from other projects, while also finding a number of individual solutions for the Forum's website – such as using the plugins Query Multiple Taxonomies for the advanced search or List Category Posts for providing effective introductions for the publications and members pages.
Where do I find it? On every device – your phone, too
Another crucial update is that the Forum's website is now better accessible on different devices. As mobile phones are immensely popular in Zimbabwe (in fact, much more popular than desktops or laptops), this is an important step to effectively reach out to as many people as possible. It is not rocket science to do it – actually most WordPress themes are by now responsive, that is, they adjust to the screen size of the device. The same goes for the most recent version of Canvas, used here.
Updating the theme was also a good opportunity to brush up the design. Yet, revolution did not happen in this realm, instead we looked at what was there and focused on improving consistency and readability. The result is a fine design that looks good and helps you find what you are looking for.
What's more? There's a newsletter
All of this was part of wider work with the Forum on their digital communications. Another result is an excellent, regular newsletter (to which you can sign up on the Forum's website) featuring both coverage of recent events and thoughtful analysis of underlying trends, which we warmly recommend to anyone interested in the human rights situation in Zimbabwe.
Both the website and the newsletter will be important resources during and after the 31 July presidential elections. We wish the Forum all the best during these and afterwards.