We're proud to announce the launch of CEJIL's (Center for Justice and International Law) new online database to improve access to the decisions of the organs of the Inter-American Human Rights System. This is an open, interactive, online tool that holds over 1500 decisions belonging to more than 270 causes, in Spanish, English, and Portuguese. It's the result of great ideas, important feedback, and a lot of hard work. This online database was built using Uwazi, HURIDOCS' web-based, open-source platform for organising, analysing and publishing document collections. This blog post is an overview how Uwazi addressed their needs.
Caselaw is an important part of every legal system, as decisions on admissibility and judgments set precedents and trends for future work of the courts and bodies that make them. It is essential for human rights lawyers to be able to find the right jurisprudence quickly, to give the appropriate advice to clients and make the best arguments in court.
For CEJIL and its network of human rights lawyers, members of academia, and national and international human rights organisations, it was previously a significant challenge to access relevant cases and decisions made by the Inter-American Court and Commission. Both bodies regularly make decisions on the same cases, but these decisions were found in two different databases. Cases and decisions were not indexed and browsable by human rights standards or keywords, and even something as basic as finding all cases relating to a particular country was challenging.
In 2015, HURIDOCS partnered with CEJIL to build an initial version of this database using our Casebox platform. This was already a significant step forward in improving access to important human rights cases and decisions in the Americas.
Now, CEJIL and HURIDOCS take another significant step forward in this effort. For CEJIL, having their document collection in Uwazi improves their lawyers' ability to find and access documents and discover new insights from the collection. This move to Uwazi drastically improves CEJIL's ability to manage the ongoing addition, curation and organisation of these documents.
Learn more about the Uwazi featured we designed and developed in partnership with CEJIL by looking through the presentation of screenshots below: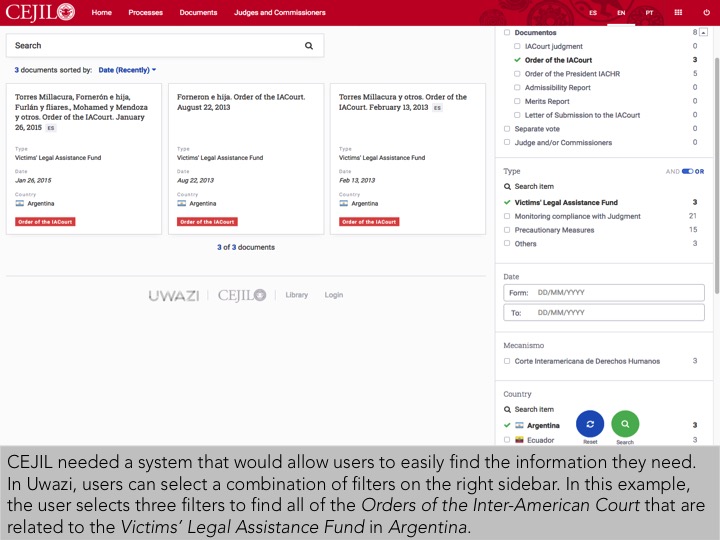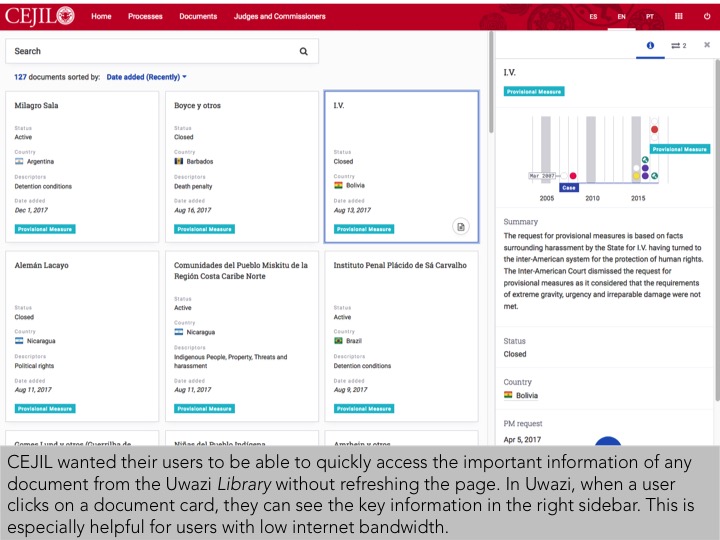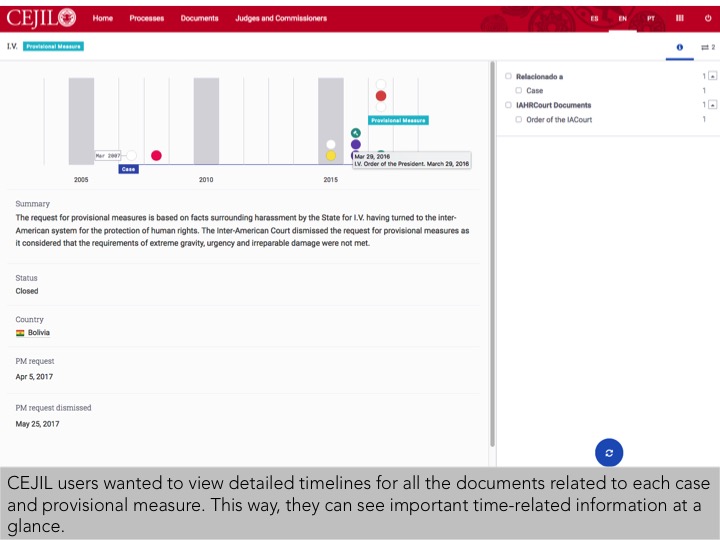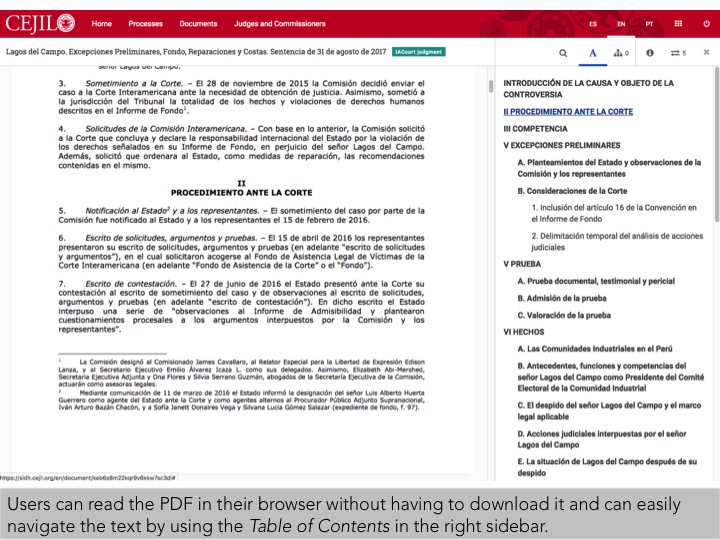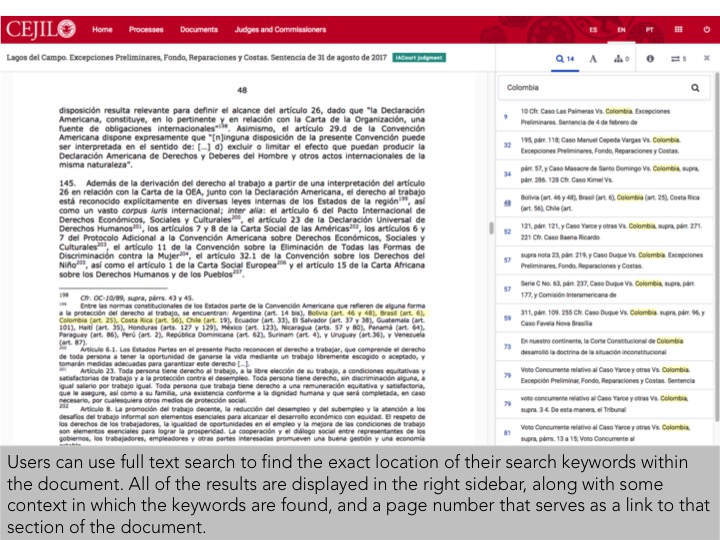 The launch of this online database is only the first phase of CEJIL's larger vision for this initiative, which includes making all the information:
available in all 3 languages (Spanish, English and Portuguese),
accessible for people with disabilities, and
easy to analyse using dashboards, reports, etc.
We look forward to continuing this innovative and productive partnership with CEJIL to develop the next phases of Uwazi and the CEJIL database. From CEJIL, we have not only received financial support for the development of Uwazi which will benefit all of our users, but we have learned a great deal through this process about what features are really important and how to make them usable.
And if you think Uwazi would be a good solution for organising, analysing and publishing your document collection, please let us know! We recently launched the 1.0 version of Uwazi so we're excited to get new projects on-board. Don't forget to join the Uwazi mailing list to get regular updates on development, events and learning opportunities.