Until relatively recently, spousal rape wasn't seen as a crime in South Korea, making women particularly vulnerable to sexual violence within a marriage. Canada hadn't adopted the Declaration on the Rights of Indigenous Peoples (UNDRIP), resulting in yet another obstacle for indigenous communities seeking justice. And transgender people in Nepal couldn't choose a third gender category on their citizenship documents, meaning their identity wasn't officially recognized.
But in 2013, South Korea's Supreme Court ruled that marital rape is indeed a crime, in 2016 Canada's government announced its unqualified support for UNDRIP, and in 2012 Nepalese authorities instructed that other options beyond "male" and "female" be made available.
Among the many factors that led up to these developments was the Universal Periodic Review (UPR), a mechanism of the Human Rights Council through which all UN member states evaluate each other's human rights record. In the 14 years since its inception, the UPR has proven itself to play a positive role in advancing protections for basic human dignity and freedoms, from generating international pressure around an issue to creating opportunities that local activists can leverage.
That's why it is so important that documentation coming out of the UPR is easy to access and analyze. UPR Info understands this well — the Geneva-based NGO has long worked to ensure that diplomats, changemakers and researchers can find what they need within these texts by curating their Database of UPR Recommendations and Voluntary Pledges.
"We make information accessible to people regarding this international mechanism," says UPR Info Programme Manager Nicoletta Zappile. "When you allow people to have access to information, you empower them."
In the last several months, HURIDOCS has teamed up with UPR Info to revamp the database, implementing machine learning features that offer a better user experience, more up-to-date data, and more robust analysis, as well as expanding from the English language to include French. It's built on Uwazi, our online tool for creating collections of human rights information.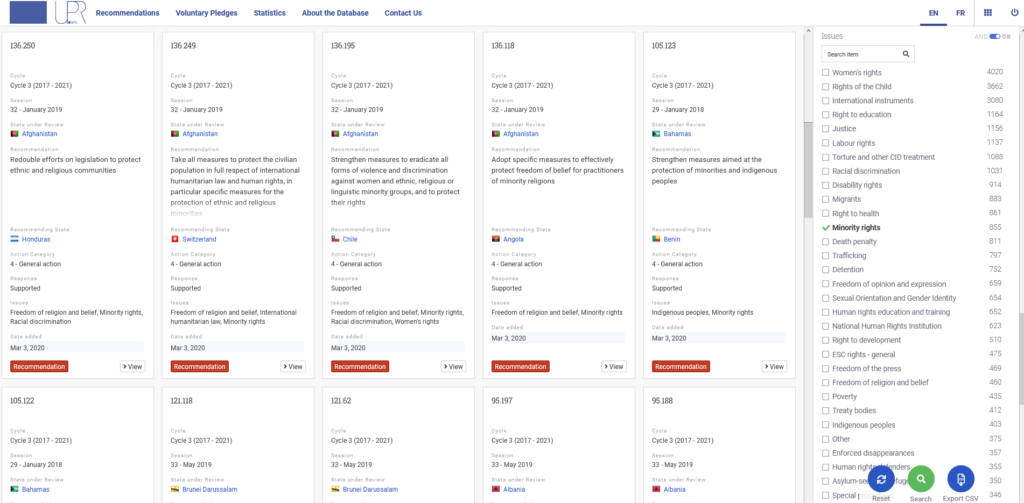 Helping civil society to play watchdog
Each year, 42 countries are reviewed as part of the Universal Periodic Review process. To put it another way, a state's human rights record is examined every five years.
The process happens in three stages. First, information is compiled about the country under review by the country itself, by UN entities, and by "other stakeholders" including national human rights institutions and NGOs.
Second, the review happens during a meeting of a Working Group made up of the 47 member states of the Human Rights Council — although any UN member state can participate in the discussion. The Working Group makes recommendations to the country in question on how to improve its human rights situation, generally in accordance with existing national, regional and international obligations. The country can accept the recommendations or "note" them, and can also choose to make a voluntary pledge, or commitment, to change certain things.
Then, the country works on implementing the recommendations that it accepted and the voluntary pledges that it made. Progress is evaluated during the country's next turn through the UPR review; many states and other stakeholders choose to undertake mid-term reporting too, but it's ultimately not required.
All of the recommendations and voluntary pledges are published on the website of the Office of the United Nations High Commissioner for Human Rights (OHCHR). And it's here where UPR Info's efforts add particular value: their database pulls out the recommendations from the cache of documents, organizes them, and adds new layers of information so that they're easy and insightful to browse.
Making this happen, however, is no simple feat. Previously, a member of UPR Info's staff would have to visit the OHCHR website periodically, check for new publications and manually download any new documentation.
Next, working across word documents and spreadsheets, they would copy the recommendations; log the related details like countries involved, date and response; and then scrutinize the substance to decide the thematic issue being addressed as well as the type and specificity of action being recommended.
Finally, they would need to upload this information into the database. All in all, the process for one UPR cycle would take nearly two months to complete.
With three UPR cycles happening each year, 42 countries under review during each cycle, and each country receiving approximately 200 recommendations, the workload on a small staff was immense. Falling behind became a risk — and not updating the database in a timely way can have real consequences.
By keeping the collection up-to-date, "you give more time for civil society to act and to play that watchdog role," says Nicoletta of UPR Info. "These recommendations are an instrument that they can use with the state. If we take too much time, then they have less possibility to learn what their state committed to do, which can have a huge impact on their work."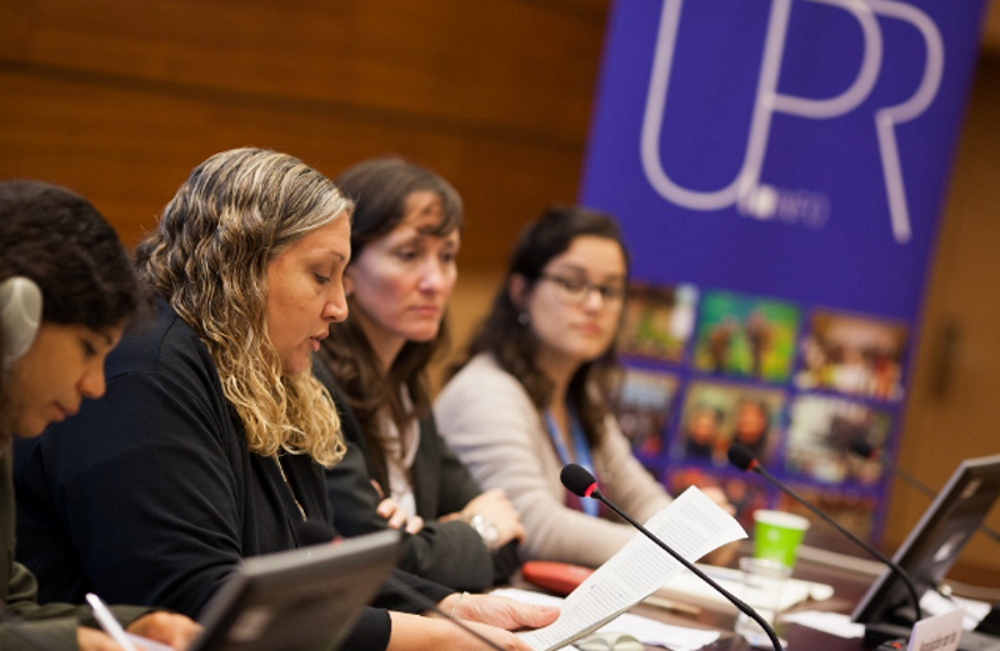 Smarter software for more efficient human rights work
That was before our collaboration with UPR Info. With support from a group of Google.org Fellows who lent us their skills in software engineering, product management and user experience design, we at HURIDOCS worked to make it easier for UPR Info to take care of their database.
We created a sort of internet bot called a crawler to automatically fetch any new UPR documents from the OHCHR website. We also integrated machine learning algorithms into the database: one smart feature skims through the content and extracts the recommendations and their related metadata, and another looks through the language and makes suggestions for how to categorize the recommendations by topic and type of action.
These algorithms have a high degree of accuracy, but UPR Info staff retain control over whether to accept suggestions and if and when to publish them to the database. This human input isn't just necessary for ensuring the accuracy of the collection itself — it's also how these features learn to return more accurate results in the future.
"Many human rights organizations share UPR Info's predicament," says HURIDOCS Chief Technology Officer Tomàs Andreu. "Their human talent is consumed by tedious and mechanical tasks that could be addressed by automated algorithms, leaving the actual substance of the work for human experts."
What once took a couple of months now takes a couple of weeks or less. Moreover, the new set-up has helped UPR Info finish off a backlog of two years' worth of updates, and is intended to keep maintenance of the database sustainable for years to come. The technology shouldn't get all the credit, however. None of this would have been possible in the first place without the dedication and expertise of UPR Info.
The Universal Periodic Review isn't a silver bullet for human rights. To revisit the examples cited at the opening of this article, sexual violence, injustice towards indigenous peoples, and discrimination against gender minorities today remain grave challenges in those countries and elsewhere.
But the UPR is an important tool that, when used alongside many others, can drive forward motion. We hope that by partnering with UPR Info, the diplomats, changemakers and researchers who depend on their database to advocate human rights are able to do so with even greater effectiveness.
If you'd like to learn more about how to use UPR Info's Database of UPR Recommendations and Voluntary Pledges and other similar collections, check out this free online course from Advocacy Assembly and HURIDOCS called "Researching Human Rights Law for Advocacy."
Have you got a public collection of human rights information that needs support? HURIDOCS would love to help. Get in touch!