A maternity ward and children's hospital are hit by an airstrike. Schools and apartment blocks are shelled. A psychiatric facility is attacked. Residential areas are targeted by cluster bombs. Critical infrastructure is struck by missiles. Mass civilian graves are discovered.
These horrendous attacks on civilians in Ukraine, some of them on healthcare facilities, are labelled by the United Nations as 'acts of unconscionable cruelty'. Russia's invasion of Ukraine, which started on 24 February 2022, is unfolding as a series of atrocities committed against civilians.
Indiscriminate attacks using missiles, heavy artillery shells, rockets and airstrikes on civilians and non-combatants are in contravention of international humanitarian law and may amount to war crimes. Apart from attacks on civilians, Russia is reported to be shelling agreed-upon humanitarian corridors from conflict zones and therefore halting mass evacuations.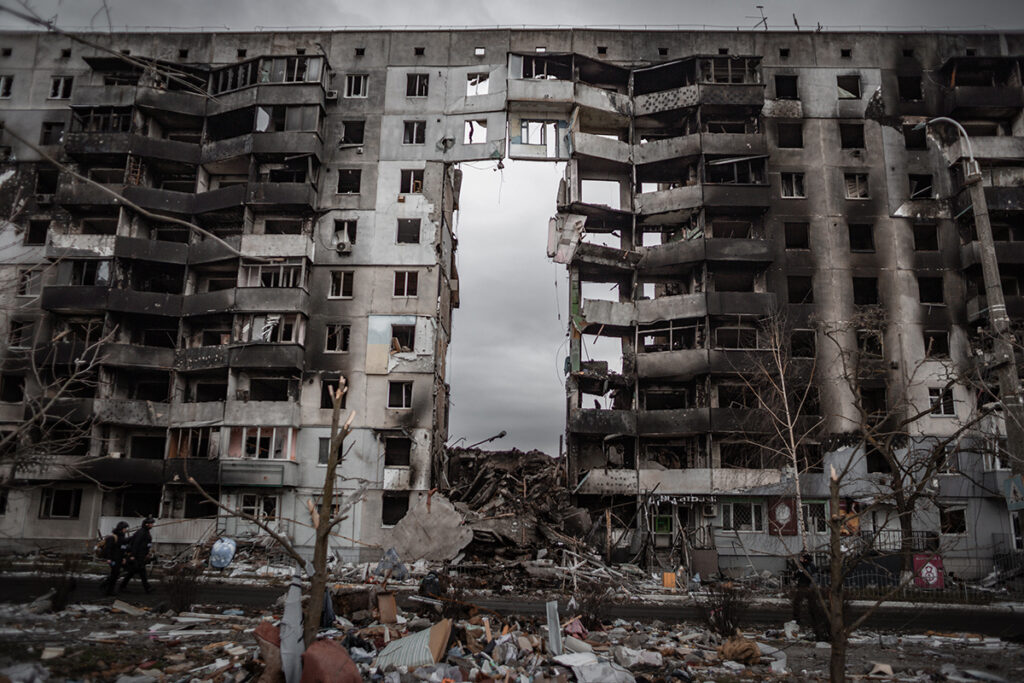 Kyiv Declaration calls for support to groups actively documenting violations
Leaders of more than 100 Ukrainian civil society organisations have published the Kyiv Declaration, which defines the invasion as "a war against the fundamental principles of democracy". The #KyivDeclaration asks for solidarity and immediate action, and outlines six urgent appeals to the international community. The organisations are collectively calling for the creation of safe zones in Ukraine, military aid, sanctions against Russia, humanitarian aid, freezing assets and revoking visas of prominent Russian families, and providing equipment to track war crimes. This includes technology and support to groups who are actively documenting the events in Ukraine, as well as human rights groups and lawyers who will be supporting accountability efforts in the long run.
An appeal from 100 Ukrainian civil society leaders
HURIDOCS has been working with urgency to meet the needs of our Ukrainian partners to enable effective, comprehensive and safe documentation of human rights violations.
"When Russia started its full-scale invasion in February this year, we revived the work of EuromaidanSOS. We are faced with a large number of war crimes that need to be documented. Among these are indiscriminate attacks on civilians and civilian objects, deliberate killings, torture, cruel and inhumane treatment, enforced disappearances and other crimes listed in the Rome Statute. Such acts are not justified by any circumstances of the war. Russia is simply using war crimes as a way of waging war.

Our volunteers from EuromaidanSOS are based in different parts of the country, and some of them work directly in hot spots, where they face constant connectivity issues. This is why usable technical solutions are indispensable. As this work is undertaken in the context of war, it is important to have qualified technology support. We are very grateful to the organisations, such as HURIDOCS, providing it in this difficult time for us."

– Oleksandra Matviychuk, Head of the Center for Civil Liberties and Board Member of HURIDOCS
Documenting violations is vital for accountability
Four days into the Russian invasion, the International Criminal Court (ICC) Prosecutor opened an investigation into war crimes being committed in Ukraine. In conjunction with the investigation, the ICC launched a contact portal and anyone with relevant information is urged to come forward and share the details with the ICC. The United Nations Human Rights Council expressed that it is gravely concerned about the escalating human rights and humanitarian crisis and passed a resolution to establish a Commission of Inquiry. The Commission will first and foremost collect evidence of violations and those responsible, and subsequently submit reports to the Human Rights Council and General Assembly. The Federal Prosecutor's Office in Germany has launched an investigation by collecting evidence of suspected crimes on civilians and critical infrastructure. Germany's probe is based on the principle of universal jurisdiction, which allows countries to prosecute crimes against international law outside of its borders.
The United Nations High Commissioner for Human Rights released a statement where she expressed horror by the images of civilian bodies on the streets and in improvised graves in the town of Bucha. She stated that reports of egregious crimes raise serious questions about possible war crimes and grave breaches of international and humanitarian law. She urged that "it is vital that all efforts are made to ensure there are independent and effective investigations into what happened in Bucha to ensure truth, justice and accountability, as well as reparations and remedy for victims and their families".
In addition to these and other measures already underway to investigate possible war crimes and breaches of international and humanitarian law, some of the most authoritative civil society organisations in Ukraine have established a global initiative to seek justice and hold perpetrators accountable. The 'Breaking the Vicious Circle of Russia's Impunity for Its War Crimes' initiative was jointly established by the Ukrainian Helsinki Human Rights Union, the Kharkiv Human Rights Protection Group and the Center for Civil Liberties, and is also known as the 'Tribunal for Putin'.
The Tribunal for Putin aims to document events which can be classified as genocide, crimes against humanity and war crimes under the Rome Statute of the International Criminal Court. The Tribunal for Putin will also collect evidence and facts on the crimes committed and will work with existing international mechanisms of the United Nations, Council of Europe, OSCE, EU and the International Criminal Court. The initiative has called for support from various actors such as international organisations, networks, government agencies, public associations, volunteer initiatives and groups who all share the common goal of restoring peace in Ukraine and ensuring that justice will prevail.
Civil society plays a crucial role in seeking justice
In this context, it is clear that the systematic documentation of human rights violations, irrespective of who is committing the transgression, is critical to achieving justice and accountability. Documentation should not only be undertaken to assist future justice and accountability mechanisms but also to support the process of reckoning and healing.
Civil society plays a key role in efforts to document and monitor violations, and to build and strengthen cases for accountability. Civil society actors are usually the first to respond to crises, have the deepest community reach and can mobilise the people who are living through these experiences. Documenting human rights violations as they happen is imperative in the process of restoring justice. To effectively and safely assist the community there is a need for strong digital tools to gather, process, preserve, manage, protect and analyse the rapidly growing bodies of potential evidence, including large amounts of storage-intensive video. In addition, deterrence against the worst violations can also be established through credible documentation strategies.
HURIDOCS is a longtime supporter of civil society organisations and human rights defenders who use human rights documentation strategies and tools as a means to strengthen accountability and advocate for justice. We are already supporting a number of groups working on documenting human rights violations in Ukraine and HURIDOCS invites other initiatives who need support with their documentation efforts to contact us. We value diverse approaches to documenting violations, as it may strengthen accountability measures and aid in articulating narratives during the process of memorialisation.
Support for documenting violations in Ukraine
With the increased need for support to document violations in Ukraine to strengthen accountability, the Alfred Landecker Foundation has partnered with HURIDOCS to increase our capacity to support civil society-led initiatives where our expertise can be helpful. HURIDOCS is grateful to the Foundation for the support, as it comes at a time when documenting threats to peace, justice and democracy is critical. The support from the Alfred Landecker Foundation will be used to assist groups who are already participating in documentation efforts, and to aid other initiatives related to documenting violations in Ukraine. 
HURIDOCS is currently supporting our partners in the following ways:
Training and consultation on information collection, protection and management techniques and associated tools, such as Uwazi;
Setting up digital information repositories to securely store sensitive data;
Refinement and integration of existing technology solutions to document, protect and analyse evidence of human rights violations; and
Hardening and scaling infrastructure to preserve and protect large amounts of information.
There is a significant and growing need to support organisations with their efforts to gather, process, preserve, manage, protect and analyse information on abuses. Reliable documentation of violations is essential for the restoration of justice in the pursuit of upholding democracy and human rights. Support us!