This year's edition of RightsCon is set to take place from 5 to 8 June, in Costa Rica and online. We are excited to share that Nancy Yu, HURIDOCS' Interim Executive Director, will moderate and facilitate a hybrid session with experts in the field on The Future/s of Human Rights Documentation. Additionally, HURIDOCS will host an online workshop centred around the development of Data models for human rights documentation. We will also have both online and in-person booths in the Community Village to further answer any questions!
HYBRID SESSION: The Future/s of Human Rights Documentation
6 June 2023 | Tuesday | 11:30 to 12:30 (CRT) | 19:30 to 20:30 (CET)
Programme category: Justice, Litigation, and Documentation
Hosted by HURIDOCS (in person + online)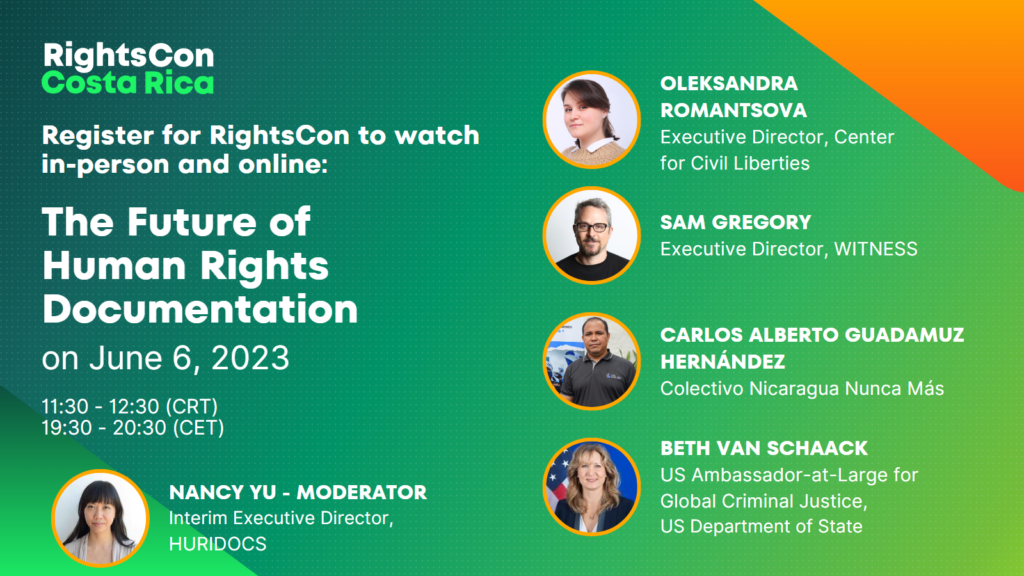 Documentation is crucial in human rights work, providing evidence and narratives for truth, justice, and healing. This session aims to foster discussions about the history, current landscape, and future of human rights documentation. Leaders in the field will address the ongoing and emerging challenges for human rights, while covering both the opportunities and risks that new technologies entail. The dialogue will cover topics such as machine learning, big data, social media in investigations, the risks of under- and over-documentation, and the challenges faced under regimes, wars, and economic uncertainties. This will encompass legal, ethical, technological, and sociopolitical dimensions.
Together with the participants, the dynamic session aims to draw from experiences, take stock of our circumstances, and set and pursue a collective agenda on human rights documentation.
ONLINE WORKSHOP: Developing data models for human rights documentation
7 June 2023 | Wednesday | 15:15-16:15 (CRT), 11:15-12:15 (CET), 06:15-07:15 (KST)
Programme category: Justice, Litigation, and Documentation
Hosted by HURIDOCS (Online)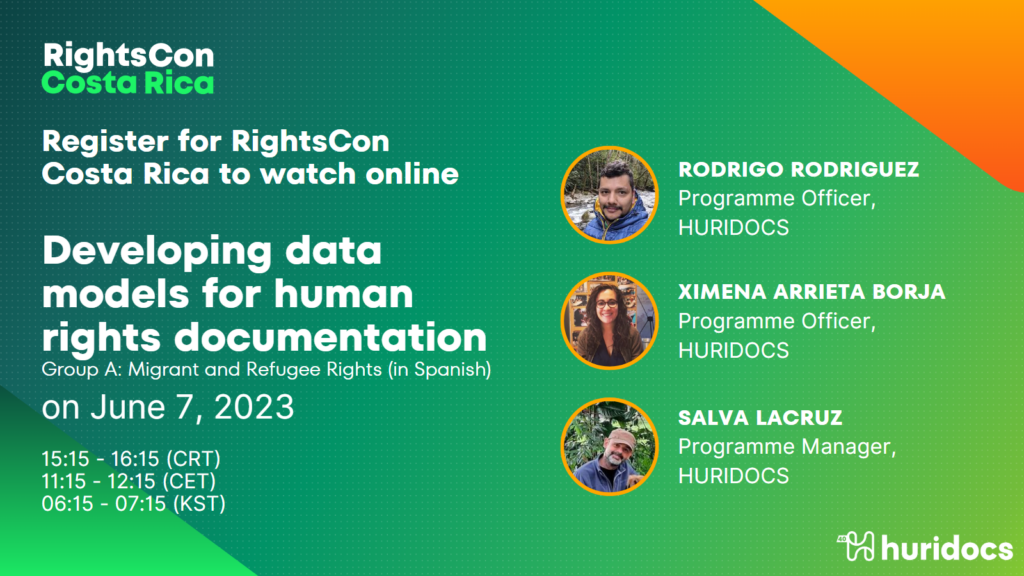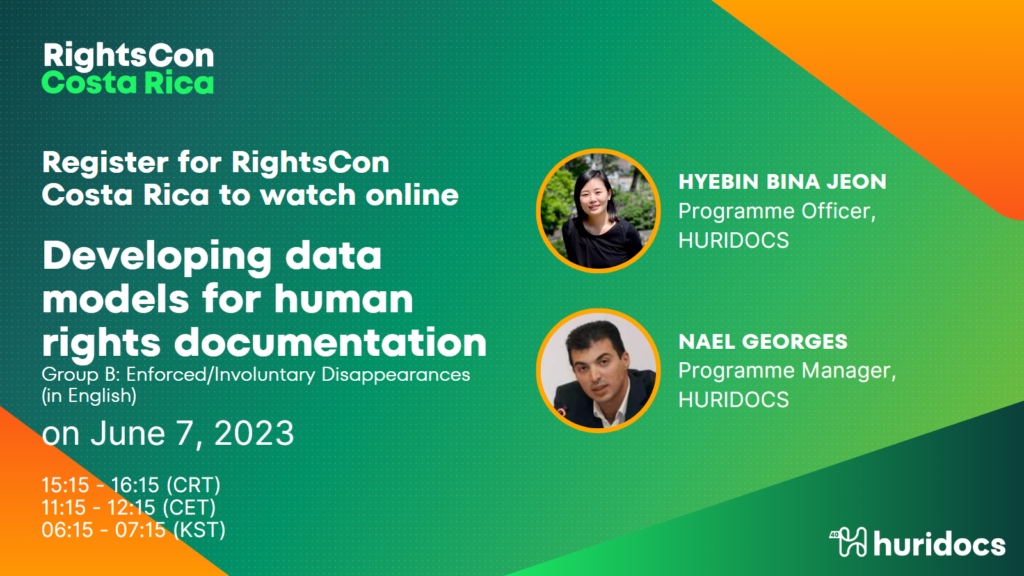 The HURIDOCS team will be hosting a one-hour workshop aimed at empowering human rights activists. This workshop is carefully crafted to provide participants with foundational concepts, case studies, and practical know-how in building data models to enhance their documentation endeavours. The workshop's primary emphasis will be on leveraging HURIDOCS tools and methodologies to develop data models for partner organisations across the globe.
During the workshop, participants will have the opportunity to join one of two breakout groups: (1) a session focused on data modelling for migrant and refugee rights (conducted in Spanish), and (2) a session dedicated to data modelling for cases of enforced/involuntary disappearances (conducted in English).
In both groups, participants will engage in discussions around fundamental principles, shared experiences, and best practices to develop an initial domain/issue-specific data model for iteration. Together, participants will identify common needs to build a standard data model on the open-source tool Uwazi. The resulting data model will provide participants with a solution informed by diverse experiences, which can serve as a foundation for future initiatives.
Online and in-person booths
To further support human rights organisations with their documentation and database development needs, our team will be available both online and in-person for further support and enquiries. 
In Person: June 7, 2023 | Wednesday |13:30 – 17:00 (CRT)
Online: June 8, 2023 | Thursday | 15:00 – 16:00 CET | 7am – 8:00am (CRT)