After 32 years with HURIDOCS, documentation wizard Bert Verstappen has retired.
Dedication is the first word that comes to my mind when I think of Bert. A very, very, very long spreadsheet needs to be cleaned? Bert will spend hours on it until it is done. An archive that sits in a basement needs to be digitised? Bert will scan a couple of days a week for a few months. Groups of human rights defenders need training in documentation methodologies in short sequence? Bert will prepare and lead the trainings, in English and in French, and will make sure to take everyone along.
Bert first joined HURIDOCS in August 1987, when a few current members of the team were not even born yet. When the organisation changed cities not once, but twice, he moved alongside it. He was there during the ups and downs of HURIDOCS, as well as for our evolution from supporting physical documentation centers and creating leading human rights documentation methodologies to developing several iterations of software. Bert has had a hand in most of it, but his focus has been steadfast on supporting human rights defenders around the globe to master techniques to preserve first-hand accounts and use them for change.
What stands out is that, after 32 years of practice and authoring seminal publications, Bert clearly has unique expertise, but never does he act as an expert who spreads unique truths. Rather, he is always curious to learn. For him, travel is a time to read books and reports. His younger colleagues were a source of inspiration on how to do things differently and not just an object for teaching. He was happy to share what he has seen and learned with the human rights movement over more than three decades, but you would have to ask.
Personally, I learned so much from him, watching him come to HURIDOCS every day and plug away on what needs to be done to support human rights defenders.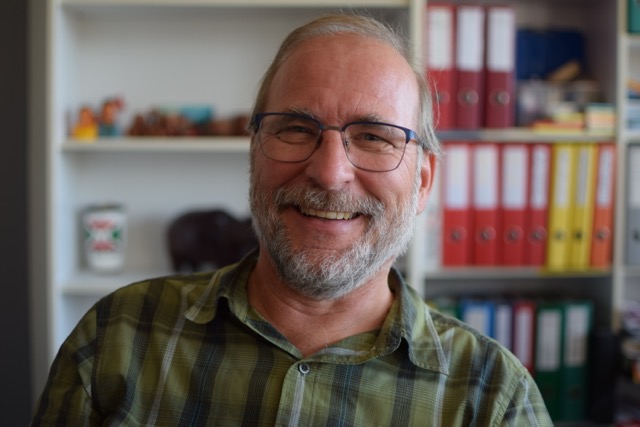 It is with defenders who Bert would create the deepest relationships. Often, someone else from the HURIDOCS team would visit an organisation or meet a defender, only to realise Bert had worked with them five years ago, 10 years ago, 20 years ago. They would fondly remember collaborating with Bert, and in turn he would never forget even the tiniest detail of that partnership – a true documentalist. It is no coincidence that, now he is retiring, he is receiving invitations from around the world to visit the friends he has made.
We will miss Bert and look forward to the odd, or not so odd, project we will be doing together. His dedication, spirit and hard work are hard to replace, and the experience and perspective will not be matched.
Before he officially hung up his HURIDOCS hat, we asked him for one last piece of wisdom, gleaned from his 32 years of perspective.
"What has stayed constant is the need that human rights organisations have to share their information and to have easy access to information from others," Bert said. "The 'how' this is done has changed a lot – from library catalogue cards via floppy disks and fax to social media and machine learning."
"HURIDOCS has worked with information management software/databases since around 1985 but the way in which they are developed and managed has changed – the trend is towards empowering human rights groups to do this themselves."
"Biggest piece of advice: focus on our partners, their needs and the challenges they face in their daily work. Finding the right balance between being innovative and being pragmatic is and should remain a main strength of HURIDOCS."