HURIDOCS was founded 40 years ago to help human rights groups gather, organise and use information to create positive change in the world. Our goal now is to build on the successes of the past 40 years, but also to reflect on how we can have more impact, contribute to a healthy ecosystem to sustain this work and continue to learn.
We have spent the last couple of months contemplating collectively on our past to determine HURIDOCS' trajectory for the future. During this process, we interacted with many groups and stakeholders to reflect on our history while determining the strategy for the next five years.
We facilitated reflection sessions, visioning workshops and group exercises with our staff, our board and other stakeholders. We analysed the external environment, participated in several consultations and conducted research on the impact of our work in lieu of our theory of change.
An independent external evaluation formed an important part of the strategy development process and reviewed HURIDOCS' previous strategic period. Insights and recommendations obtained from the assessment were vital in informing our new strategy as it addressed key questions and we drew from the many forward-looking lessons highlighted by the evaluation.
---
Organisational strategy 2022-2026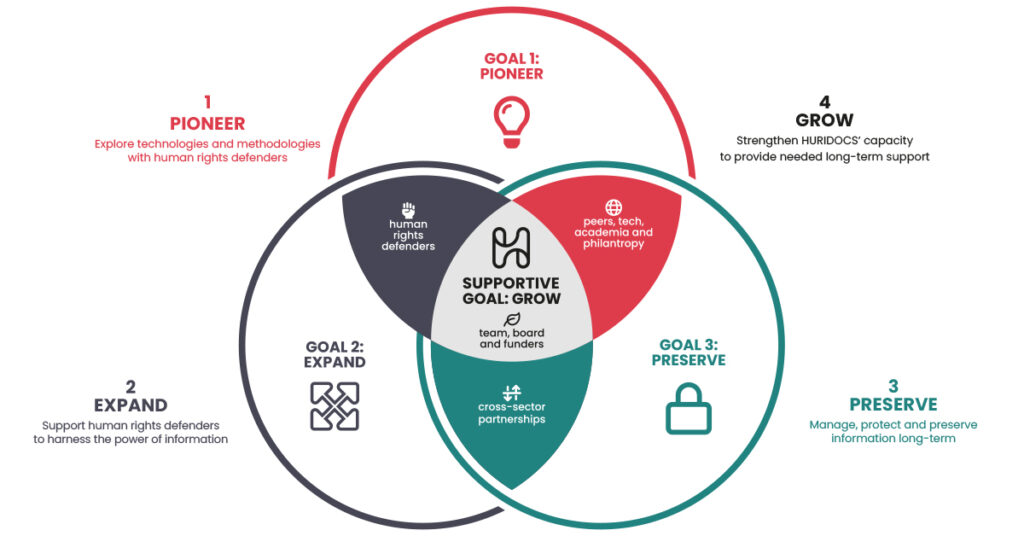 This strategy development process led us to defining four goals that will guide our work for the next five years:
Goal 1: PIONEER
Explore technologies and methodologies with human rights defenders
Under Goal 1, our focus is on research and development, cross-sectoral explorations and the co-creation and sharing of knowledge and resources. This will be done through partnerships and collaboration with human rights defenders, tech communities, academia, government agencies, international organisations, networks of regional and local civil society organisations and philanthropy.
Goal 2: EXPAND
Support human rights defenders to harness the power of information
Under Goal 2, we aim to support organisations with their informational needs, improve Uwazi, provide risk assessment and targeted support on digital security, increase access to knowledge and obtain deeper reach on key human rights issues and geographies.
Goal 3: PRESERVE
Manage, protect and preserve information long-term
Under Goal 3, our objective is to invest in scalable and reliable infrastructure that is cost-effective, accessible and usable. This includes the improvement of processes surrounding the authentication of primary information and enhanced security practices.
Supportive Goal: GROW
Strengthen HURIDOCS' capacity to provide needed long-term support
For us to fully achieve Goals 1, 2 and 3, our budget and our operational support need to grow. This can be achieved through exploring other possibilities for Uwazi, clarifying our pricing and policies, improving staff development and nurturing a culture of respect in the organisation.
We aim to meet the demand from the many human rights organisations and adjacent communities who request our guidance and support by aligning our four goals: pioneering, expanding, preserving and growing. By having a dedicated focus on infrastructure on the one hand, and continuous exploration of new possibilities on the other hand, will we be able to reach a wider audience and broaden access to those who will lead positive change in the world.
To find out how we plan our journey in the next five years, delve into the why, what, who and how in the HURIDOCS organisational strategy for 2022-2026.