HURIDOCS held a workshop in Indonesia last August to highlight the power of collective work for the documentation of human rights violations during emergent crises. The workshop brought together 12 participants representing various community organisations from six different countries in the Asia- Pacific region: Bangladesh, Burma, Indonesia, Philippines, Sri Lanka, and West Papua.
The workshop is part of HURIDOCS' Rapid Response Documentation (RRD) initiative. The initiative aims to develop principles, methodologies, and tools in support of documentation work during crisis emergencies. In addition, the RRD initiative seeks to develop a network of locally based and driven rapid response documenters, and to provide them holistic support. The workshop, facilitated by HURIDOCS' Bono Olgado (Documentalist) and Natasha Todi (Programme Manager for the Asia Pacific region), is integral to the initiative's commitment to the co-development of solutions that are community-driven.
Collaborative goals and methodology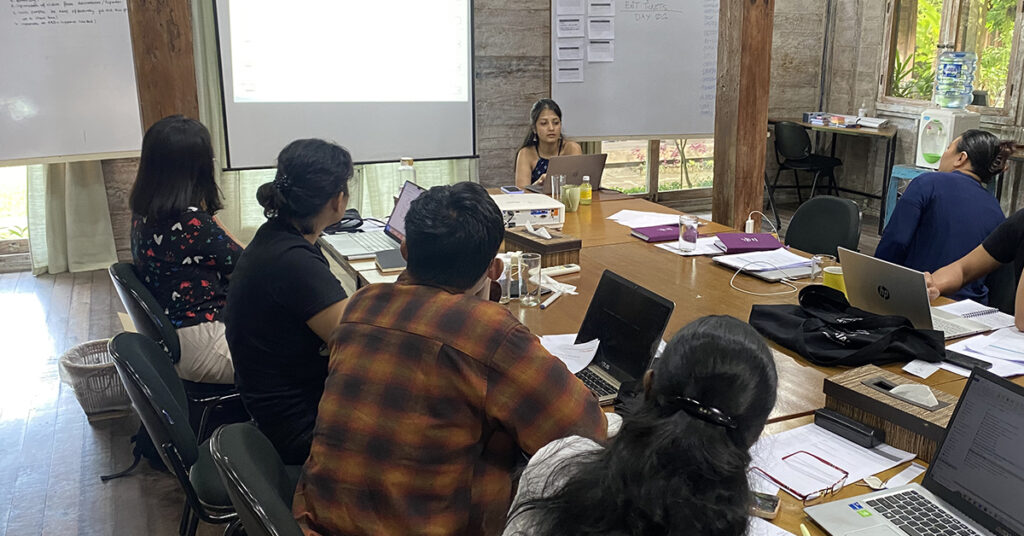 The RRD workshop had three core objectives: it aimed to establish principles and practices for rapid response documentation, develop tools and systems tailored to swift documentation during protests and mobilisations, and cultivate a community of rapid response of "docu-mentors".
The workshop's methodology was centred on efficiently and ethically capturing information on human rights violations during crises. It embraced community-grounded epistemology, solidarity-based development, and peer-driven learning. The framework agreed upon by the participants included victim/survivor-centred documentation, efficient triage, streamlined processes, and open accessibility.
A notable highlight was the collaborative development of an Uwazi database, designed for swift deployment during protests and mobilisations. Participants combined their experiences in documenting human rights violations with rapid response principles, yielding insights for improvement. Additionally, the Digital Protection Facilitators from our funder, the Digital Defenders Partnership, contributed by guiding a session on "Holistic Security during crises".
It is important to mention that the workshop occurred against the backdrop of extensive protests in Bangladesh, triggered by socio-political issues. As students, activists, and workers took to the streets, clashes with law enforcement led to claims of excessive force, violent crackdowns and other human rights violations. This backdrop adds weight to the RRD workshop's urgency and significance.
"The workshop and RRD curriculum proved immensely valuable for both me and my organisation," says Hasan Mahmud Ayon, Project Manager at SAVE Social Action of Voluntary Efforts at Bangladesh (SAVE). "We are engaged in a Documentation Project within the Rohingya Refugee Camp in Cox's Bazar, Bangladesh, where data security is paramount, this initiative was a timely boon.

"The workshop offered a twofold advantage: enhancing our documentation practices and fortifying our data security measures. Operating within an environment where confidentiality and precision hold utmost importance, the workshop was focused on these key aspects. It underscored not just the art of effective documentation but also the criticality of safeguarding sensitive information.

"Additionally, the workshop's participation format allowed me to exchange insights with professionals from our region, enriching our collective expertise. This cross-country interaction provided a fresh perspective, fostering innovative ideas from diverse contexts.

"The workshop and RRD curriculum stand to significantly enhance our documentation and data management practices, augmenting the safety and coherence of our work. I extend my gratitude to HURIDOCS and DDP for making this opportunity and eagerly anticipate the tangible benefits that lie ahead."
Looking forward, the workshop's legacy is set to continue. A report outlining the RRD principles will be shared with the broader human rights community in September 2023. Additionally, a workshop for the Eastern European and Central Asia (EECA) regions is in the works, applying the same principles to address emergent crises based on regional needs.