Three months into 2020, and HURIDOCS is hard at work building upon the foundation that we laid with our partners in 2019.
It was our 37th year of supporting human rights organizations to preserve key information and make it accessible to changemakers who need it most: those activists, advocates, researchers and policymakers who can turn knowledge of legal mechanisms and evidence of abuses into action for justice.
The HURIDOCS 2019 Annual Report goes into detail, but here's a quick summary. In 2019, we focused on addressing four needs of human rights defenders:
1. Human rights defenders need to be able to easily access relevant laws, rulings and resolutions.
We helped organizations all over the world to curate collections of human rights information using our web-based platform Uwazi, with projects touching on accountability, digital rights, discrimination, torture, and regional or international human rights jurisprudence. Additionally, in close collaboration with our partners we explored how machine learning can bolster the creation and maintenance of these collections.
2. Human rights defenders need secure, adaptable and efficient ways to document violations.
From Mexico to Pakistan and many locations in between, we assisted organizations to document human rights violations, including violence against women, capital punishment, political prisoners, enforced disappearances, and more. We also explored how we can help national human rights institutions to more efficiently manage complaints, and we guided several documentation organizations to strengthen their information security practices.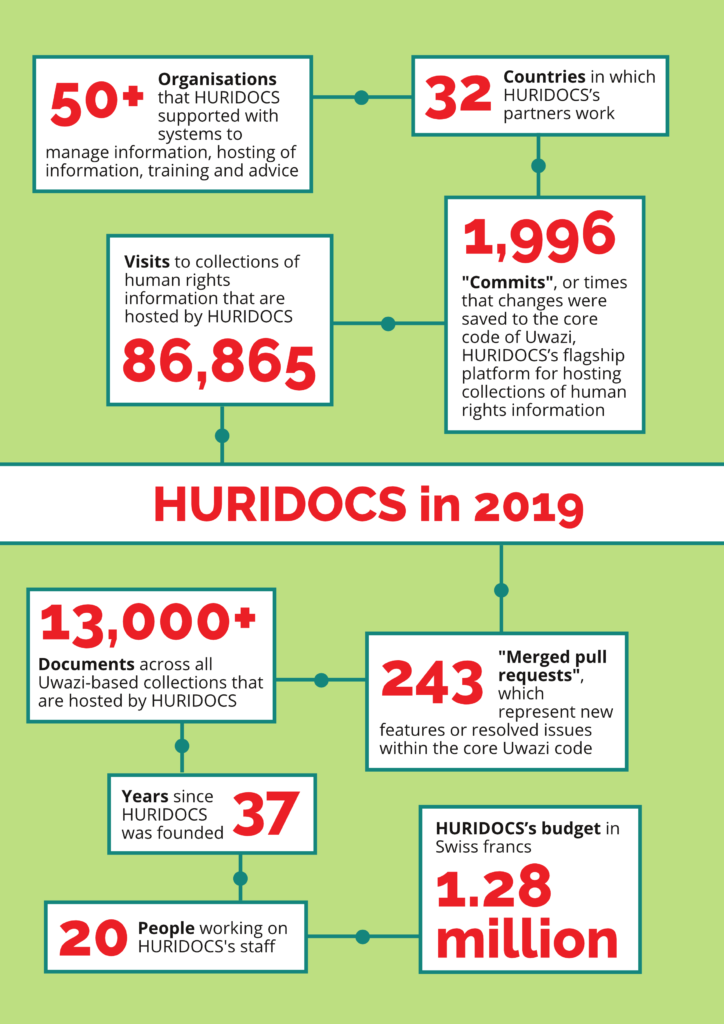 3. Human rights defenders need a community where data is shared, learnings are reflected upon, collaboration is common, and achievements are celebrated.
In line with our commitment to building an interoperable ecosystem of human rights tools, we piloted an integration between Uwazi and Digital Evidence Vault that helps investigators capture and organize digital content in a streamlined way. As well, we organized different opportunities for learning and exchange about human rights information and documentation, and we once again lent our solidarity to human rights defenders at risk by participating in the Martin Ennals Award jury.
4. Human rights defenders need tools and strategies that they can trust as technology advances, circumstances change, and threats evolve.
Our budget grew, and we focused on shoring up our reserves to ensure that the dozens and dozens of organizations across the globe that rely on our support won't face interruption, now or in the future. We also welcomed new team members and introduced policies for staff well-being, such as equal parental leave and a budget for training and personal development — part of our ongoing pursuit to make sure the humans of HURIDOCS who put their heart and soul into this work are supported, connected and appreciated.
No matter the challenges that 2020 throws our way, we'll continue helping human rights organizations to use information to build a better world. A passionate thank you to our partners, allies and supporters who make this mission not only possible, but powerful!