About these resources #
This collection of resources is co-created by human rights defenders to help you build a good and appropriate information management system. It provides guidance, examples, activities, and worksheets you can complete as you go through the steps yourself or with your team. We hope that after exploring these resources, you will be able to apply the guidance and tips to your own information challenges.
These resources were co-created by the HURIDOCS Knowledge Collaboration team, allies such as WITNESS and Transitional Justice Working Group, and a wide range of human rights practitioners who generously took the time to share their challenges, experiences and solutions.
The purpose of the HURIDOCS Knowledge Collaboration Initiative is to support, facilitate and preserve the exchange of knowledge between human rights defenders on information management.
This collection of resources is one part of a larger roadmap of topics we'd like to cover: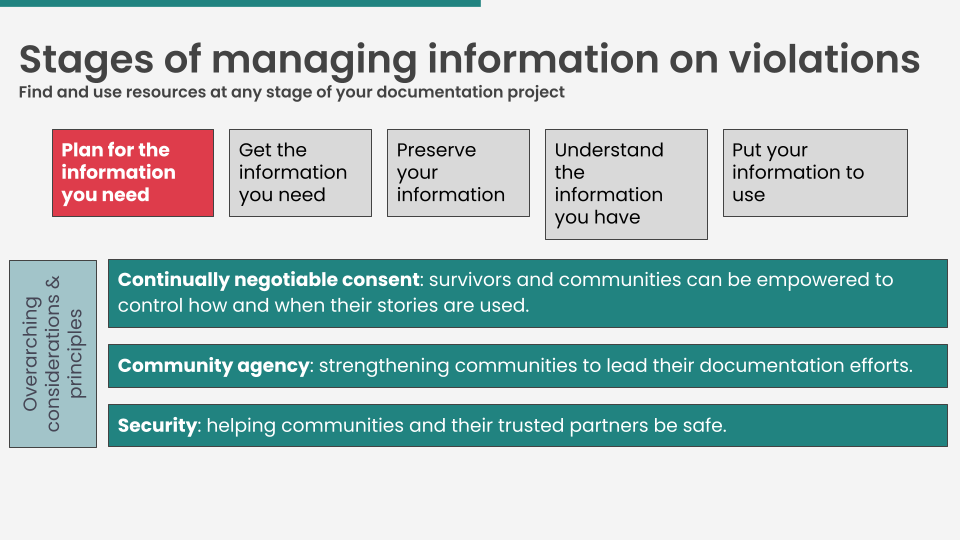 Who is this for? #
The primary audience for these resources are local-level and regional-level human rights defenders engaged in short-term and/or long-term documentation and investigation work. In times of calm or in times of crisis, these defenders need to find appropriately secure and efficient ways to collect, organize and preserve their information about human rights violations. If you are a defender interested in learning about ways to organise your information, or you are running into problems with your existing information management system — these resources are for you!
What you will learn #
The intended take-aways from these resources include:
Being able to determine the key questions you want your database to answer, based on your goals and user needs,
Being able to design your conceptual data model based on these key questions, laying the foundation for the data structure of your database,
Being able to determine your controlled lists of terms by which your information will be organised,
Being able to document and explain your required attributes, controlled lists and rules in a data dictionary,
Being able to recognize and move forward based on your capacity and resources.
How to use these resources #
We have organised the resources in a numerical order based on one way to progress through these steps. But we know the process of planning for the information you need might look very different for each practitioner – and that's ok! There are some resources you may not need, or some that you're not ready to implement. Please start at the step that feels most useful to you, and reference the other resources as it is helpful.
All of this content is made available under a Creative Commons Attribution 4.0 license.
What an offline copy? You can download any of these resources by clicking on the printer 🖨️ icon in the top right corner of each resource page.
How to contribute to these or other resources #
Share with others: Please feel free to share this resource if you find it helpful or know someone who might have experiences to add.
Add your comments to the docs: These are living resources. Everyone is welcome and encouraged to add their knowledge to it. To do this, you will find a link to the corresponding Google Document on each resource page. There, you can add comments. We have flagged particular sections of the resources that need some expansion with a sprout.🌱
Partner with us on a resource topic: If you are particularly interested or knowledgeable about a particular topic that we haven't covered yet, please reach out!
Help us translate these resources: If you are interested in helping us translate these resources into other languages, please reach out!